Furnace Repairs In Waco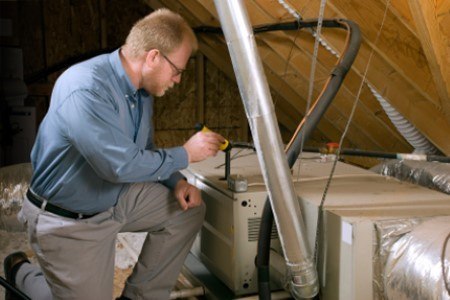 If your Waco home's gas furnace stops working or starts giving off an odd smell, the first thing you're going to want to do is make the call to your local furnace repair specialists here at Polansky Heating & Air. Gas leaks are extremely dangerous, especially if left unaddressed or if left in the hands of an inexperienced technician. When it comes to furnace repairs, our team of skilled HVAC specialists are not only trained professionals who've had plenty of experience dealing with gas furnace problems, but we've seen just about everything over our years of service when it comes to furnace repairs, letting you have complete confidence in the knowledge that you've got a team of skilled technicians on hand that will be able to solve your furnace issues without hiccups. Are you looking for a professional Waco HVAC contractor you can trust to provide you with the safe and effective furnace repairs you need for your home's system? If so, give our team of skilled professionals a call today and let us show you the kind of quality results that have helped make us one of the most trusted names in heating services the area has to offer.
Here at Polansky Heating & Air, we are a state licensed Waco furnace repair company dedicated to ensuring our clients get the quality service they need to keep their furnace operating at its best when they need it. You can rely on our team of skilled heating contractors to respond to your need for furnace repairs promptly and professionally. We respect your schedule, property, and concerns, and strive to ensure you have a great experience with our company. When you make the call to Polansky Heating & Air, you'll always find a team of reliable and knowledgeable heating technicians who are ready to help you with all of your furnace repair needs. If you have any questions about our full line of high-quality furnace repairs, or if you would like to schedule an appointment for your next service, give us a call today. Our team of experts are always standing by and ready to assist you in any way we can.
Gas Furnace Heating Repairs
Gas furnaces can be a highly efficient and effective manner of providing heat to your Waco home, but because the combination of combustion and a highly flammable fuel type, gas furnaces require a bit more care than some other heating units. Anytime your gas furnace isn't performing like it should, it's important that you have an experienced HVAC contractor come out and take a look to ensure you and your family aren't in any danger. Here at Polansky Heating & Air, our team of skilled professionals can provide you with the reliable gas furnace repairs you need to ensure your gas furnace is operating safely and efficiently at all times.
3 Reasons To Get A Fall Heating Tune Up
Now that summer is in the process of winding down, the transition to fall is getting closer and closer every single day, and that means that more and more homeowners are going to be switching off the […]
When Should You Contact Your Air Conditioning Company for Emergency AC Service
Not all air conditioning complications happen during convenient times of the week, a problem which necessitates emergency AC service from a reputable Waco air conditioning company. Unexpected air con […]