Your Local HVAC Contractor In Waco, TX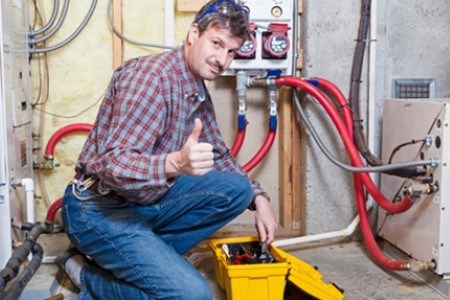 If you're one of the many Waco homeowners who are in the market for a professional HVAC contractor who can provide you with the comprehensive heating and air conditioning services you need to maximize the comfort of your home, you've come to the right place. Here at Polansky Heating & Air, we are the premier HVAC contractors serving the Waco area, and our technicians are some of the best you'll find in the business. Are you looking for a professional Waco HVAC contractor you can trust to provide you with the comprehensive heating and cooling services you need to keep your home at the perfect level of comfort for you and your family? If so, give our team of skilled professionals a call today and let us show you the kind of quality results that have helped make us one of the most trusted names in HVAC services the area has to offer.
Here at Polansky Heating & Air, our team of skilled HVAC technicians use the latest and most up-to-date tools, equipment, and methods to ensure we're equipped to handle any task you throw at us, no matter how simple or complex it might be. Whether you're in need of comprehensive heating or air conditioning repairs, system maintenance, or even brand new system installation, our team of skilled Waco professionals can help you get the job done right, and won't call the job finished until you're happy with the results. If you have any questions about our full line of high-quality HVAC services, or if you're looking to schedule an appointment for your next service with one of our skilled technicians, give us a call today. Our team of experts are always standing by and would be happy to assist you in any way we can.
Air Conditioning Installation In Waco
Here at Polansky Heating & Air, our air conditioning installation technicians are some of the most qualified and skilled the Waco area has to offer. We stay up-to-date on all of the new air conditioning systems and technologies to ensure we're able to offer our clients the very best in terms of both product recommendations and information about which systems are going to be best suited to cooling your home. Whether you're looking for your first system for your new home, or you're just looking to replace an older system that's beyond repairs, our team of skilled HVAC contractors will work with you to find the perfect system suited to your needs, and deliver a flawless installation to help maximize efficiency and prevent any unnecessary problems from occurring.
3 Reasons To Get A Fall Heating Tune Up
Now that summer is in the process of winding down, the transition to fall is getting closer and closer every single day, and that means that more and more homeowners are going to be switching off the […]
When Should You Contact Your Air Conditioning Company for Emergency AC Service
Not all air conditioning complications happen during convenient times of the week, a problem which necessitates emergency AC service from a reputable Waco air conditioning company. Unexpected air con […]
Reviews & Testimonials on Polansky Heating & Air in Waco, TX
"Thank you for allowing me to mail in payment. And thank you for the service. I truly appreciate your work."
"I will definitely recommend Polansky Air Conditioning to my friends and family because my experience has been Wonderful. They did a Great Job and were Fast and Complete!"